Home
Balkan Insight reports the incident took place at the Damar Cafe in Skopje's Old Bazaar area.
Uranija Pirovska, director of the Helsinki Committee for Human Rights in Macedonia, said: "The hooligans entered the cafe and started throwing everything, like bottles, crates.
"It was a stampedе. One girl was injured and was taken to the accident and emergency centre. She is fine, but still recovering,"
Witnesses said not see the faces of the assailants because they wore hoods.
"They were well organized. They had an exact plan of how to enter, what to demolish and when to leave, before the police came," one witness said.
The centre has already twice been the target for anti-gay attacks.
Last year, attackers stormed the cafe while people were inside watching a movie.
The same year, attackers also vandalised the centre but without anyone inside.
The outgoing Dutch Ambassador, Marriët Schuurman, said in an interview that the failure to react on behalf of authorities "creates a perception that this is sponsored, or tolerated in the best case, by the government and used as an instrument to make people afraid and try to shut people up."
She added: "I will meet representatives of the EU delegation in Skopje and with all the ambassadors. The attackers responsible for previous events were never found – and that means that the institutions tolerate violence.
"In Macedonia, the fundamental rights of the LGBT community have no value. Their right to live is endangered."
Schools are getting better at fostering a friendly environment for LGBT students, but they still have a long way to go.
A survey released Wednesday by the Gay, Lesbian & Straight Education Network, which advocates school safety for students, regardless of sexual orientation or gender expression, showed notable improvement for LGBT students during the 2012-2013 school year from 2010-2011.
But huge numbers of LGBT students reported problems at school. Of the nearly 8,000 students ages 13 to 21 who were surveyed, more than 55 percent reported feeling unsafe at school due to their sexual orientation, down from 64 percent in 2011. Thirty-six percent faced physical harassment, including pushing or shoving, a drop of 2 percentage points from the earlier survey. And more than 16 percent said they were physically assaulted, sometimes with a weapon, a decline of 2 percentage points. Many students said they avoided places at school that made them feel unsafe.
"You see tremendous progress since 2011," Eliza Byard, executive director of Gay, Lesbian & Straight Education Network, told The Huffington Post. "That being said, it still means far too many students are experiencing anti-LGBT violence and discrimination."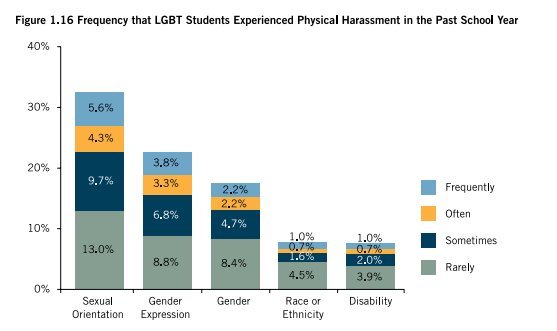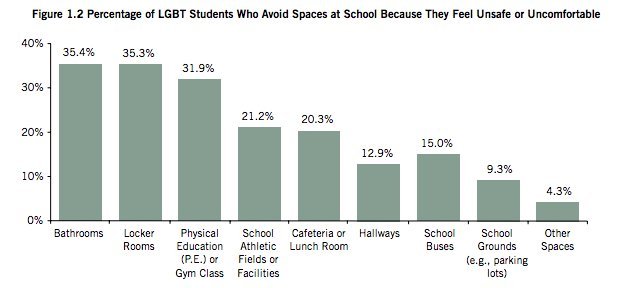 The survey found that certain school policies contribute to discrimination. More than half of students who were surveyed reported hearing teachers or school staff make homophobic remarks against LGBT students. Further, school staff often fail to protect LGBT students, the survey showed. The number of students who said school staff members intervened to stop bullying was unchanged from 2011.
Byard said the new report provides greater detail than earlier surveys on how schools discriminate against LGBT students. For example, nearly 18 percent of students reported being prevented by from "discussing or writing about LGBT topics in school assignments." Nearly 16 percent were prohibited from wearing clothing or items supporting LGBT issues. For the first time, the survey asked students whether they had heard negative remarks about transgender people.
"We don't know if that's on the way up or way down," Byard said. "The increased visibility in trans students and issues makes it a place where we have to pay attention."
Byard said she worries that school structures and policies are not keeping pace with changes in student behavior.
"In our current political climate, that makes me really worried," Byard said.
British singer Boy George doesn't believe the stereotype that all gay guys have promiscuous sex.
The 52-year-old George made his comments in the latest issue of gay UK glossy Attitude.
"I think you have to be careful with the assumption that everyone that goes into gay clubs takes drugs," George told the magazine.
"And not everyone has promiscuous sex. That is one type of person. And they exist in the straight world too."
George added that technology has made it harder for people to connect.
"It's hard with all the technology," he said. "When you try to have a conversation with somebody these days they are constantly checking their phones. I think maybe it is harder to be in the moment these days."
George, the lead singer of Culture Club, recently was honored with the magazine's Icon Award for Outstanding Achievement.
At the 1974 national convention of the American Institute of Architects in San Francisco, Judith Edelman presented data showing that 1.2 percent of registered architects in the United States were women. Only coal miners and steelworkers, she suggested, counted a lower proportion.
These survey results, she said, "clearly demonstrate that the alleged grievances are not all in the heads of some paranoid chicks." She then agreed to lead a task force to tackle the issue, out of fear that someone "insufficiently stubborn" would get the job.
Ms. Edelman died of a heart attack at 91 on Oct. 4 at her home in Manhattan, her son Marc said. Her legacy includes designing housing for the needy, health clinics and other buildings throughout New York City, as well as drafting many respected planning studies.
But it was as a firebrand for women in architecture — she said she came to be called Dragon Lady at A.I.A. headquarters in Washington — that Ms. Edelman established a broader reputation. In the early 1970s, as feminism challenged many institutions, she pointed out that women were far less likely to be in architecture schools or partners in firms than men, and were paid less.
In 1974, Ada Louise Huxtable, architecture critic for The New York Times, wrote that it was "appalling" that the institute's national membership consisted of 24,000 men and 300 women. When Life magazine in 1976 surveyed women in professions, it said that "none even today is a more exclusively male preserve than architecture."
In 1971, Ms. Edelman became the first woman elected to the executive committee of the New York chapter of the institute, with the goal of persuading what she termed "an exclusive gentleman's club" to elevate women. She also fought for change from outside the establishment, helping found the Alliance of Women in Architecture in 1972.
In designing buildings, Ms. Edelman was clearly successful. The firm she started with her husband built more than 1,500 apartment units and commercial enterprises between the Manhattan and Williamsburg Bridges; devised a way to preserve the facades of nine brownstones on the Upper West Side to fashion a single multiunit building, where Jackie Robinson was one of the first residents; restored the La MaMa theater on the Lower East Side; and built many affordable housing projects. It won awards from the City Club of New York, the Municipal Art Society and the American Institute of Architects.
Her great feminist cause has fared less well. Although women now account for half of all graduates of American architecture schools, they represent only 20 percent of licensed practitioners and an even lower proportion of partners in firms, according to the blog of the Beverly Willis Architecture Foundation, which chronicles women's past and present contributions to the industry.
Judith Deena Hochberg was born on Sept. 16, 1923, in Brooklyn to immigrants from Eastern Europe. Her childhood fascination with building turned into a desire to become an architect when she visited an architect's office as a junior in high school. The desire solidified when an injury prevented her from dancing, her first love.
Her politics came from her upbringing. "I was raised in a very lefty environment," she said in an interview with the blog of ESKW/A, the current name of her firm. (The initials stand for Edelman Sultan Knox Wood.)
She attended Connecticut College and New York University before earning an architecture degree from Columbia. Her class was mostly women and Latin Americans, because American men were fighting in World War II. In the interview, she said she had led a successful rebellion to include more modernist architecture in the curriculum.
Columbia professors, she recalled, often said, "We're wasting our time on you girls." Asked by her interviewer if they said that to the women directly, she replied, "Oh, yes."
When Ms. Edelman started looking for a job, she heard something similar. "We don't hire girls," one potential employer after another said.
She finally found work drawing designs for brickwork for mental hospitals. She was then hired by the architect Huson Jackson, who had an office in Greenwich Village, where she lived. Mr. Jackson, a professor at the Graduate School of Design at Harvard, was a leader in bringing the International Style from Europe to the United States.
"He was a great thinker, but he couldn't draw, interestingly enough," Ms. Edelman said. "He'd draw a squiggle and say, 'Turn this into a building.' "
In 1947, she married Harold Edelman, and they spent a year traveling in Europe on a fellowship she had won from Columbia. After returning to the United States, they formed a partnership with Stanley Salzman, who had worked with Walter Gropius, a giant of the profession who founded the Bauhaus architectural school. Mr. Salzman left the firm in 1979 and died in 1991.
Mr. Edelman died in 1999. In addition to her son Marc, Ms. Edelman is survived by another son, Joshua; her sister, Joan Gitlow; eight grandchildren; and two great-grandchildren.
Ms. Edelman, who attended a design criticism session two weeks before her death and then walked more than a dozen blocks home, was the model for a 1974 children's book, "What Can She Be? An Architect." The authors, Gloria and Esther Goldreich, changed the character's name to Susan Brody.
As a young architect, Ms. Edelman did not know of Julia Morgan, the great California architect who designed San Simeon, the home of William Randolph Hearst, and more than 700 other buildings. She made that admission in a speech accepting the Woman of Vision award from the New York chapter of the National Organization for Women in 1989.
Later generations knew about Ms. Edelman. In that same speech, she talked about a young female architect, unknown to her, who years ago had said she named her cat Judy Edelman.
"Astonished, I asked why," she said.
The woman, she said, answered, "What other role models are there?"
Jillian Michaels wants to clarify comments she made about her sexuality.
Over the weekend, the former "Biggest Loser" trainer gave an exclusive statement to People to clear up what she said in a recent Health magazine interview, in which she discussed her continued struggle with talking about "the gay thing" and expressed that it would be "a dream" to be "normal."
Michaels told People that members of the LGBT community "misunderstood" her remarks about being out:
I am deeply disheartened and sorry to hear that members of the gay community have misunderstood the points I was trying to make about being 'out.' I attempted to shed light on how hard and scary it can be to be out. That gay families get attacked and even small daily interactions involve others being 'shocked and disturbed' by the gay lifestyle. I was saying if along the way in my life that had been a choice I would have made it, but it's not who I am. Gay is not a choice. If I was ashamed of who I am, I would be in the closet. Considering my family was on the cover of People magazine, I think I'm pretty far from that.
In the original Health interview, Michaels told the magazine she wished she had "some strapping football player husband" and that it would be "a dream to be 'normal' like that:"
I don't know that I am [comfortable talking about being gay] now, to be honest with you. The gay thing has always been hard for me. When Heidi and I are out and somebody older asks, 'Are you sisters?' I say, 'We're friends.' I guess it comes from thinking that they will be shocked or disturbed. Look, I wish I had some strapping football player husband. It would be such a dream to be 'normal' like that, but I'm just not.
President Barack Obama seems to have changed his tune on gay marriage, telling The New Yorker's Jeffrey Toobin he believes same-sex couples in all 50 states should be allowed to marry under the Equal Protection Clause of the Constitution.
Obama first publicly backed gay marriage in May 2012, but noted he thought the issue should be left to the states. Speaking with Toobin for the Oct. 27 issue of The New Yorker, Obama said the best Supreme Court decision since he took office was the recent rejection of gay marriage appeals from five states, a move the president said is "a consequential and powerful signal of the changes that have taken place in society and that the law is having to catch up."
While Obama said the high court "was not quite ready" to "indicate an equal-protection right across the board," he personally believes same-sex marriage is protected under that clause. From The New Yorker:
Obama opposed marriage equality until May of 2012. He told me that he now believes the Constitution requires all states to allow same-sex marriage, an argument that his Administration has not yet made before the Supreme Court. "Ultimately, I think the Equal Protection Clause does guarantee same-sex marriage in all fifty states," he said. "But, as you know, courts have always been strategic. There have been times where the stars were aligned and the Court, like a thunderbolt, issues a ruling like Brown v. Board of Education, but that's pretty rare. And, given the direction of society, for the Court to have allowed the process to play out the way it has may make the shift less controversial and more lasting.

"The bulk of my nominees, twenty years ago or even ten years ago, would have been considered very much centrists, well within the mainstream of American jurisprudence, not particularly fire-breathing or ideologically driven," Obama went on. "So the fact that now Democratic appointees and Republican appointees tend to vote differently on issues really has more to do with the shift in the Republican Party and in the nature of Republican-appointed jurists ... Democrats haven't moved from where they were."
The federal government has extended federal benefits to same-sex married couples in states where gay marriage has been legalized, most recently giving benefits to those in the five states where the gay marriage appeals were rejected.
Read Toobin's entire piece on Obama at The New Yorker.